It's almost the last show of the season and so this is our last interview before the summer. But not just an interview, our next guest is the unforgettable Dan Seyfried from Strasbourg, France. He travels the world with his group La Carpe Haute and works with several other improvisers in specific duo or group shows. Let's get to know him better!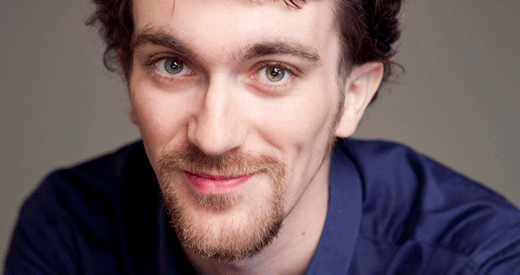 If you were to describe yourself in three words, what would they be?
Oh… Hard question! Kind, French and gourmand!!
How did you find improv or did improv find you?
I was doing theatre in my home town. But I wanted to find a group in Strasbourg. One guy, who was also doing theatre with me, told me about La Lolita, a group that was doing improv matches. I gave it a go, and immediately fell in love with improv!
What is your favourite improv related memory?
Again, hard question. I have many good memories about impro, and at some point it's really hard to choose which one is my absolute favourite. These memories made it to the shortlist;
The show we did in Bydgoszcz, Poland, with La Carpe Haute. It was with Fabien Fuhrmann, Cédric Marschal, Gael Doorneweerd-Perry and myself and it was an absolute delight to be on stage. Almost no words and a lot of playfulness.
More recently, the Fraltons show in Impro Amsterdam: a speechless western, with the stupidest cowboys ever. I always have a lot of fun with my partners (Gael Doorneweerd-Perry, Cédric Marschal and Morgan Mansouri)
And finally, a show that I once saw and is still stuck in my mind is Close to you from Rama Nicholas, in Wurzburg. Wow… The cast was great and the scenes all fucking good. Real great acting!
Which (improv) player/actor/performer do you admire most and why?
One of my favourite players is Derek Flores. I saw him performing three times when I was in Würzburg Festival. He's very talented, being able to jump from comedy to drama, strong characters to more realistic ones, from storytelling to acting. I was impressed. He commits to everything he does, he believes in it. All his characters, funny, or dramatic, are grounded and very well interpreted. I would love to see him again or do a workshop with him.
I also like Quentin Lo Russo, a fantastic, crazy, funny Swiss player from Lausanne. Another of my favourite improvisors is Lisa Rowland. She's extremely talented! She can play everything with a lot of power. When you see her, you cannot remain indifferent.
As a group, I always love watching Big Bang from Boston. Again, there are plenty of groups that I really admire and consider my favourite, The Maydays, Paradigm, BIG… And recently, for their energy and freshness: Doris likes everything.
What lies, according to you, at the absolute core of improv?
For me, most important is connection with your partner and playfulness. If you connect with each other and do what you love together, it will be super cool to watch. And if you have both, I truly believe that anything is possible.
When you connect, you are there for your partner, you understand and listen to each other. You tell the same story and play for one and another. And with playfulness, you will look for your partner's joy but also enjoy what he's offering to you, whatever it is.
Which improv format are you hoping to perform with Swaajp?
Well, I have to say that I'd be pleased with many things. Maybe something that I've never done? I like when it's a simple format, that allows being silly but also allows playing truthfully. I would love a show in which we make people cry as well as laugh!
Why should people book tickets pronto and come see this show?
Because it's gonna be awesome. And unique!
Are there any other interesting tidbits about yourself we would love to know?
Ask my friends. I'm not the best to talk about myself!
So that is what we did. Here is Gael Perry sharing inside information on Dan Seyfried.
Dan is a great improviser and teacher. A very loving friend. He has a background in chemistry. He loves eating pizza and sweets. He also loves playing video games. He loves drinking wine and beer, and talking about sex. And finally, he hates giving clear answers to any questions.