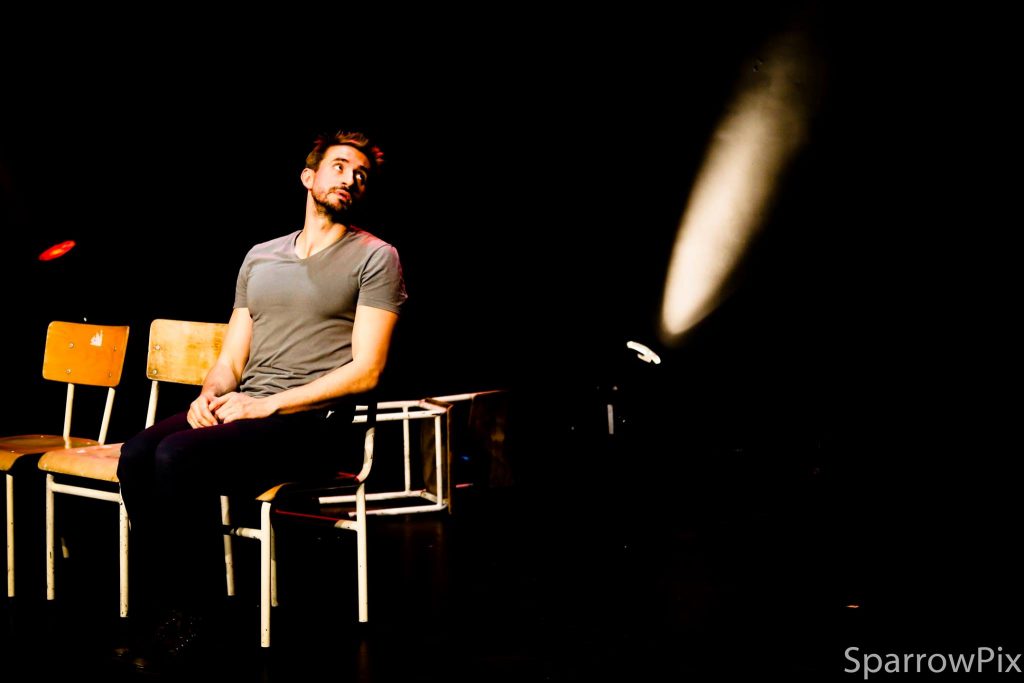 How would describe yourself in three words?
That is such a tricky question. Give me a minute to think about that.
I'm a free spirit; deliberate but also, and I'm looking for the right word here … Childlike? But that doesn't cover it. (Contemplates in silence) I am a vulnerable clown.
What is your history with improv?
Improv is how it all started for me. As a 20-year-old I attended a workshop by the Belgische Improvisatie Liga (BIL) and that sparked my passion. It satisfied my yearning to be on a stage which wasn`t something that was encouraged at home. Therefore I used improv to fight my way into the limelight. But those days are over: improv is no longer an entry into the world of theatre – to me it has become the reason to be on stage.
Anyway, BIL and I go back a long way. I took some more workshops, auditioned and eventually spent ten years as an active member of BIL. Along the way I ran into other improv groups, went to festivals, learned about other forms of improv. Using those experiences I developed my own approach to improv. Eventually, I left BIL and started my own group, De Boterbrigade, and at almost the same time joined Inspinazie.
When I was 28, I took drama classes for a year and built a professional career in theatre, acting and improv.
Can this form of theatre be transposed to a way of living?
Absolutely! To me improv has become a way of life. It makes you think about life and changes how you live. I have become more flexible, more open to change in a positive way. And if something does go wrong, improv has given me tools to deal with it.
What lies, according to you, at the absolute core of improv?
For me improv means trying to free yourself from your ego. To let it go for yourself and for the people you're playing with. In a way this also means respecting your co-players. You need to trust your group and feel their trust in return which results in a sense of equality. Avoid feeling different, for instance: 'I am the star player' or 'I am not as good as everybody else'. These are manifestations of the ego.
It is also key that there are no such things as mistakes. There is this saying, it might sound a bit anachronistic, but the message holds: The master weaver simply works his apprentice`s mistakes into the greater design. We need to get to that place, where mistakes don't matter but are part of the grand scheme.
Which improvisers, both on the international stage and here in wee Belgium, are an inspiration to you?
Internationally, I am hugely inspired by TJ Jagodowski and Dave Pasquesi, a Chicago based improv duo. They are such immensely experienced improvisers. I spent some time there and they used to perform weekly every Wednesday. What I witnessed there was so organic, so powerful and just incredibly inspiring. They wrote a book as well, Improvisation at the speed of life, which has sort of become my improv bible.
Here in Belgium I immediately think of someone like Alain Rinckhout. To me he is the embodiment of improv in Belgium.
I must mention the people I improvise with most, Ann Claes en Filip Leonard of De Boterbrigade, but obviously also the gang at Inspinazie are a huge inspiration as well. I consider us to be friends first and foremost and they never cease to amaze me.
Aitor Bassauri, an incredible clowning performer and teacher, also comes to mind. He isn't an improviser per se but I believe that improv and clowning share a lot of common ground.
What can the audience expect from the creative collaboration between De Boterbrigade and Swaajp, on Saturday February 23rd?
De Boterbrigade will be performing it's own format. But when De Boterbrigade and Swaajp join forces I think we can expect it to be quirky, funny and sincere. It will be a first as we have never performed together but it's going to be fun to explore each other on stage.