27apr10:0017:00The Nutella Technique - Claudia BehlendorfWorkshop10:00 - 17:00 BATS Little Theater, Paardenmarkt 111, 2000 Antwerpen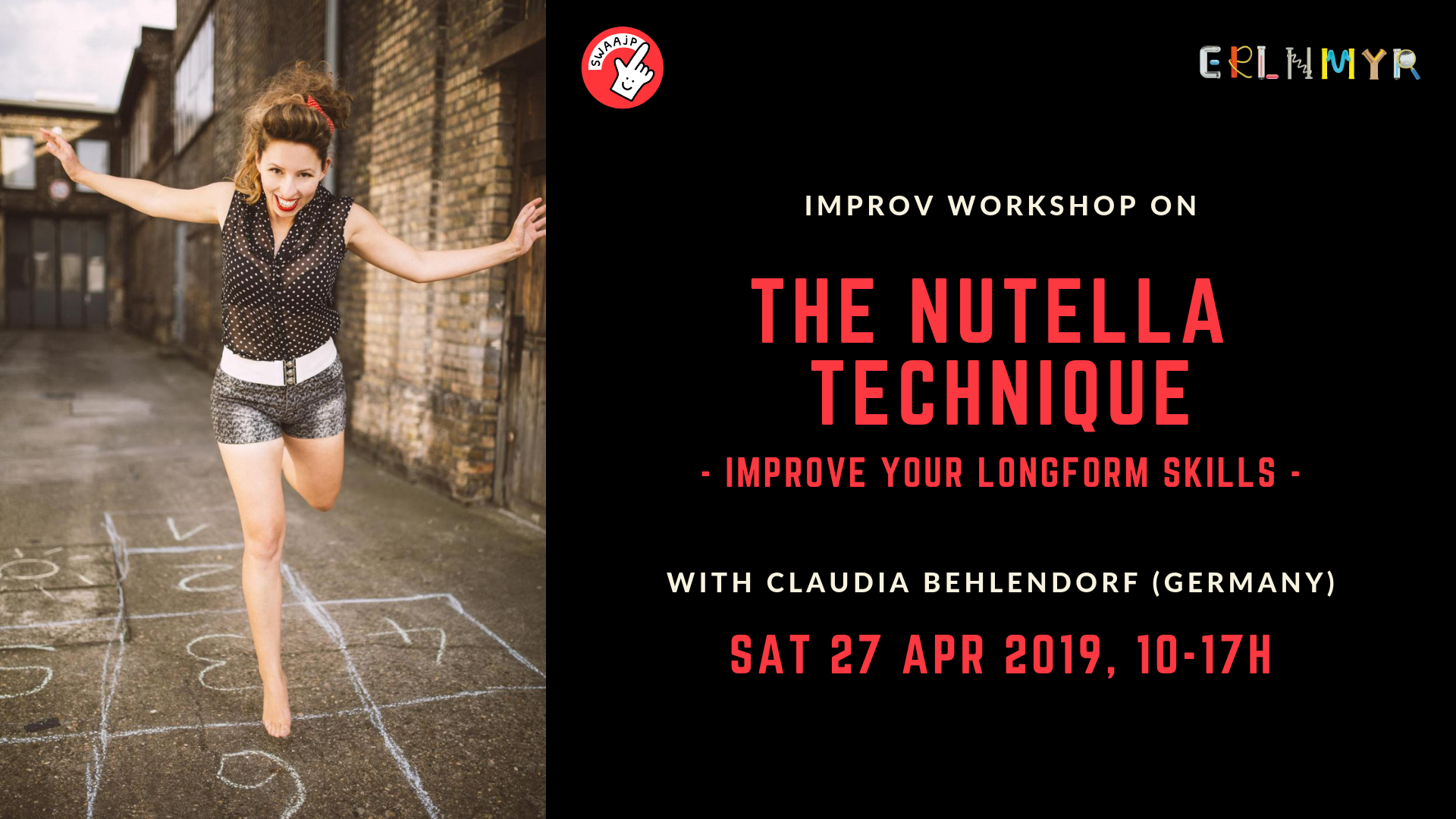 Event Details

How to create amazing longforms

This workshop is for you if you…

…are an improviser with experience in longform wishing to take your longform skills to the next level of awesomeness!

How can we create longform that is fun, captivating, varied, deep, highly entertaining, funny and that the audience loves as much as we do? The clear answer is: by putting more nutella on our breads.

"The Nutella Technique" is a 6 hours intensive workshop in which you will learn to instantly improve your longform formats – whether they be narrative, montage or American-style longforms. We will focus on finding the fun in improvising longer pieces – both for the players as well as the audience. The workshop gives you a simple yet effective tool to take home to your ensemble and to immediately apply to all of your formats.

Participation fee: €75 for 6h of workshop, including lunch.
Previous improv experience (including some longform) is required.
Maximum 12 participants.

Claudia Behlendorf

Claudia Behlendorf is a well-known German improviser, trainer and actress. She regularly performs with the ensemble "Die Affirmative" and the trio "Mugshot" and works as a tv actress on German public television. She is the artistic director of "Die Affirmative", head of the Mainz School of Improv and organises one of Germany's best-known festivals for improvised theatre, "Punk and Pomp" in Mainz.

Claudia has taught and performed all over Germany as well as internationally e.g 2018 at Improfest Ireland, at the Finland International Improv Festival and at "Subito" in Brest, France. She won several prizes, inter alia the Maestro in The Hague and in Würzburg and has worked and studied intensively with iconic teachers of the improv cosmos such as Keith Johnstone, Shawn Kinley, Jay Sukow and Inbal Lori.
Time

(Saturday) 10:00 - 17:00
Location

BATS Little Theater

Paardenmarkt 111, 2000 Antwerpen